Description
Concrete Claw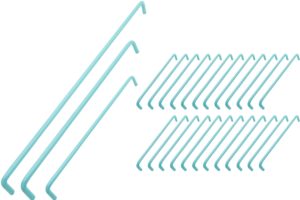 Concrete Claw – Concrete Structure Repair is a system is designed to repair damaged cracks or separations in concrete surfaces with a much stronger, higher strength, American steel claw which holds the structure in place, while preventing further separation.  Concrete Claws imbedded in concrete structures will enhance the structural strength of the surface while holding it together from within.
The unique and optimum advantage for the Concrete Claw is that it will lock-in multi-directional movements that are inherent with many phases of expansion and contraction of the surface impacted by shifting geotextiles underneath.  It is important to repair damaged cracks or separations in concrete at it's break point.  Concrete Claw – Concrete Structure Repair will protect the surface from vertical and horizontal stress quickly, permanently and cost effectively.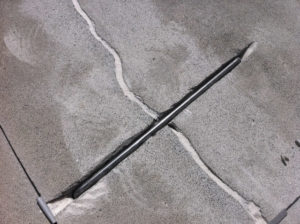 Concrete Claw Benefits
Replaces the Structural Strength of Concrete at the Break Point
Withstands Multi-directional Stress from Expansion/Contraction
Withstands 114,000 pounds of pressure
Permanent Repair for Separations in All Concrete Surfaces
Much Easier and Cost Effective than Replacing the Whole Surface Area
Concrete Claw Recommended Uses
Patios
Pool Decks and Pool Basins
Foundations
Garage Slabs
Retaining Walls
Walkways and Stairs
Concrete Claw Available Sizes 
12", 18" and 24" Lengths individually and in kits that include the epoxy anchors
Concrete Claw Installation Schedule According to Surface Thickness
4" thick – Every 16" on Center – With one at 6" from edge of concrete
5" thick – Every 14" on Center – With one at 6" from edge of concrete
6" thick – Every 12" on Center – Alternate 12" and 18" Claws at 12" on Center
Concrete Claw Installation Instruction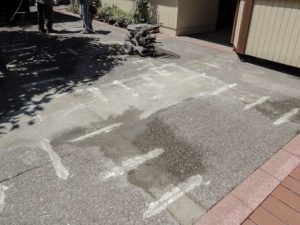 Set Claws in place according to required measurements
Line up Claws on Center and drill 3" deep X 3/4" diameter holes for the vertical ends of the Claw
Cut a 1" deep channel across the separation where the Claw can fit within the surface
Fill the holes and channel with epoxy anchor 2000PC and insert the Claw in place
When the Epoxy Anchor is cured, the crack can be filled with epoxy, or Quick Crete would be just as good for this step and less expensive.
Apply the top coat if needed.
* See the product data on PANSEAL Cartridges Data Sheet 2000PC for cure times and further information on the Epoxy Anchor
 High Strength Anchor for the Concrete Claw – 2000PC
Description
PANSEAL 2000PC is a unique, multi-component epoxy system that was originally formulated to permanently seal leaks in HVAC drain pans and coat and protect metals from corrosion.  PANSEAL also serves as an excellent, high-strength anchor in concrete for the Concrete Claw.
 Product Features & Benefits
Locks Concrete Claws in Place Preventing Movement
Minimal system down time
Easy to Apply with a Caulk Gun – Sets up Underwater
100% solids and entirely free of solvents and VOCs.
Very Minimal Odor
Bonds chemically and mechanically to the substrate
 Recommended Uses
Adhesive Anchor for Concrete Claws
Cooling Tower Repair
Condenser Pans
Tank Linings
 Preparation
Make sure to remove dust an debris within the holes for the Concrete Claw.
Mixing
PANSEAL Cartridges are supplied in a dual chamber cartridge with a self-mixing nozzle attachment.
Remove the nut and then then the stopper.
Attach the mixing nozzle and secure with the nut.
Apply with a caulk gun into the drilled hole to support the Concrete Claws.
Continue to fill all holes, as material left too long in the nozzle will harden within.
*   As pressure is applied with the caulk gun, the material mixes itself as it spirals through the mixing nozzle.  
Cure Schedule
10°C (50°F)
25°C (77°F)
60°C (140°F)
Concrete Claw Part Numbers & Sizes
Part Number      Description
HP-CC12-1      12" Concrete Claw (Qty 1)
HP-CC18-1      18" Concrete Claw (Qty 1)
HP-CC24-1      24" Concrete Claw (Qty 1)
HP-CC12-6      12" Concrete Claw (Qty 6)
HP-CC12-12      12" Concrete Claw (Qty 12)
HP-CC12-24 12" Concrete Claw (Qty 24)
2000PC PANSEAL Epoxy Anchor (Qty 1)
*Call Dynesic Technologies with application questions.