Vertical Surface Repair – PANSEAL Paste Grade –
PANSEAL Paste Grade vertical surface repair is designed to trowel over surfaces and eliminate sagging or dripping that will occur in applications involving thinner viscosity coatings. Vertical surface repair requires a thick viscosity that can hold in place and attach to the surface while curing. Once Cured, PANSEAL Paste Grade vertical surface repair will strengthen the damaged surface and adhere to the substrate with 2,850 psi adhesion strength. PANSEAL Paste Grade can also be sanded, tapped and machined post cure, as well as be painted or coated over.
PANSEAL Paste Grade #2500PG Description
PANSEAL Paste Grade is a unique, multi-component, novolac trowelable epoxy designed for use as a chine repair or lap weld feathering product for steel tanks. It is often used in conjunction with chemical resistant topcoats such as PANSEAL 2000PG or DX-3300. PANSEAL Paste Grade has excellent chemical resistance to a wide range of petrochemical products, fuels, organic/inorganic acids & alkalis. It's long re-coat window allows it to be top-coated up to 14 days, depending on temperatures.
PANSEAL Paste Grade Vertical Surface Repair is comprised of 100% solids and contains no VOC's. PANSEAL Paste Grade's excellent adhesion properties allow it to bond to steel, concrete and iron even when coating conditions are less than ideal. PANSEAL Paste Grade can be used on a variety of substrates and applications. PANSEAL Paste Grade is ideal for majorly damaged surfaces, vertical applications and ceiling work because of it's thick viscosity.
PANSEAL Paste Grade Features & Benefits
• Immediately seals leaks, cracks on majorly damaged surfaces
• Thick viscosity – Ideal for vertical repairs and ceiling work
• Easy to apply with a trowel
• Bonds chemically and mechanically to substrate
• Works on metal, fiberglass, stainless steel, concrete and wood surfaces
• 100% solids and entirely free of solvents and volatile organic compounds
PANSEAL Paste Grade Recommended Uses
• Wastewater and Storage Tanks
• Cooling Tower Repair and Structural Metal/Concrete Repair
• Structural Adhesive for Metal Bonding
• Resurfacing Damaged Areas leak repair, wastewater tanks, lift stations, wet wells, manholes, storage tanks cooling tower
repair, anchor adhesive, plate bonding, pump casting and serves as a high strength structural adhesive for metal bonding.
Vertical Repair Compound Application Information
Steel – Remove all oil, grease, or scale from the surface, and then blast with coarse angular silica or mineral aggregate to obtain a 3 mil (75 micron) minimum profile and to achieve the following surface preparation standards or their equivalents: NACE 1/SSPC SP-5 – White Metal Blast, NACE 2/SSPC SP-10 – Near-White Metal Blast.
Concrete or CMU Concrete must be cured a minimum of 7 days at 75°F (24°C) and 50% relative humidity or equivalent. Prepare surfaces in accordance with ASTM D4258 Surface Cleaning of Concrete and ASTM D4259 Abrading Concrete. Voids in concrete may require surfacing. Mortar joints should be cured a minimum of 15 days.                                                
Mixing Power mix part A resin separately, then add part B hardener and power mix. 
Ratio         1.6A:1B by volume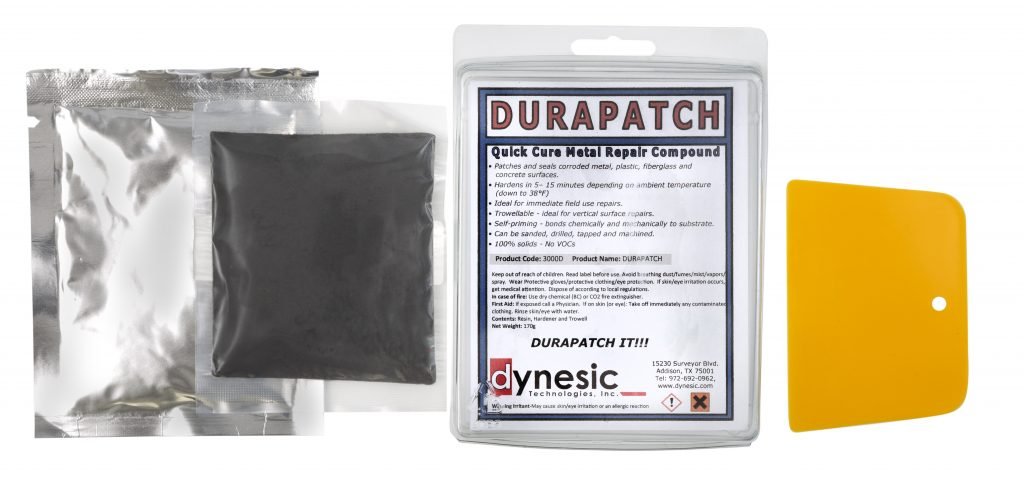 Pot Life     4 hours at 25°C (77°F)1 hour 30 minutes at 33°C (92°F)                   
Link to PANSEAL Paste Grade Product Data
DURAPATCH Kit Vertical Surface Repair           
 DURAPATCH is an ideal patch for small surface repair projects. It's an ultra adhesive patch kit that can patch holes in all types of surface repair projects. DURAPATCH will cure within 5 to 15 minutes depending on ambient temperatures and be immediately available for service.
DURAPATCH Product Features & Benefits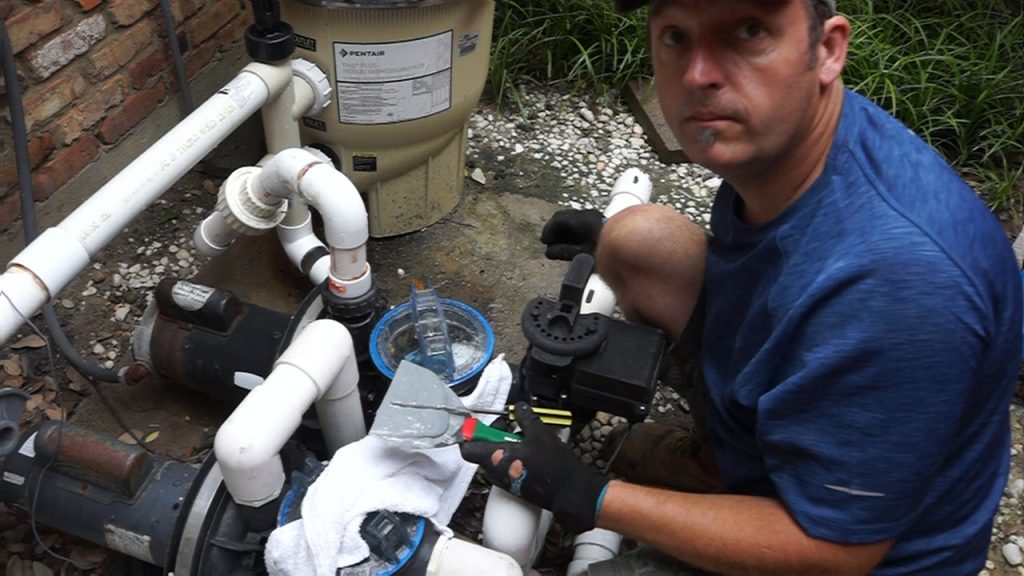 All Purpose Quick Cure Epoxy Paste
Hardens in 5– 15 minutes depending on ambient temperature  (down to 38°F)
Ideal for immediate field use repairs
Trowelable – ideal for vertical surface repairs
Self-priming – bonds chemically and mechanically to the substrate
Can be sanded, drilled, tapped and machined
100% solids – No VOCs
Recommended Uses
Metal cooling tower pans
Emergency tank and pipe repairs
Electrical bushings Setting keyways and taper fits
Repair of metal, fiberglass, composite, PVC and similar plastic materials
Pool pump leaks, adhesive for tiles and bricks      
Link to DURAPATCH Product Data
Link to DURAPATCH Video
For further product or application questions call Dynesic Technologies customer service – 972-692-0962.