Surface Prep Cleanser – DX-ETCH –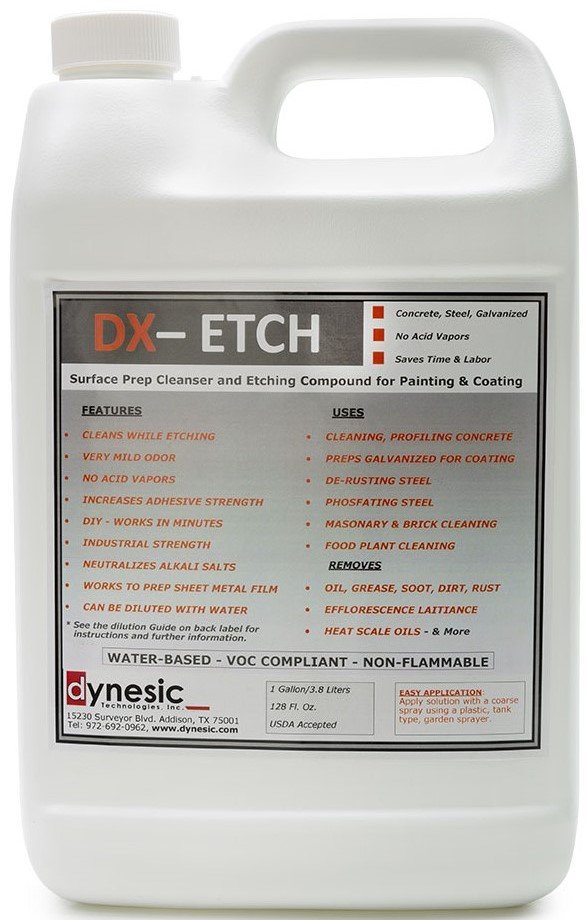 Surface Prep Cleanser and Etcher, DX-ETCH is designed to quickly, easily and accurately prepare surfaces prior to painting & coating. Painting and coating projects require a clean, etched surface in order to get the best adhesion results.  Rust, corrosion and other contaminants stand in the way of adhesion of paints and coatings to the surface,  This will, no doubt effect the aesthetics and durability of the project.  Obtain Optimum Surface Prep with DX-ETCH Surface Prep Cleanser and Etcher.
Why Use DX-ETCH Surface Prep Cleanser and Etcher?
Sand blasting, grinding and sanding surfaces require equipment, supplies and difficult labor, while an easier, quicker solution can provide the same or similar results.  DX-ETCH Surface Prep Cleanser and Etcher works in minutes.  Simply add the product to the surface, let it work its magic and then wash with water.  The Surface Cleanser and Etcher solution eliminates time consuming clean-up and is furthermore a less costly alternative.  Furthermore, the Surface Prep Cleanser and Etcher can be diluted with water.  For dilution recommendations, refer to the DX-ETCH Product Data.
Recommended Uses for DX-ETCH
DX-ETCH is recommended for use for DIY applications and by painters, and contractors for industrial maintenance, chemical coating and product finishing.  It's ideal for concrete, masonry, stucco, cinder block, cement board, brick, galvanized, steel and more.  Depending on the application,  Some of the common uses for the Surface Prep Cleanser and Etcher include garage floors, driveways, commercial printers, auto paint shops, truck-mounted rack fabricating, equipment manufacturing, production painting shops and furniture manufacturing to name a few.
Although DX-ETCH Surface Prep Cleanser & Etcher can be used to clean and prep all surfaces, our DX-ETCH Product Data lists specific case studies on projects including Residential Basement, Residential Garage Floor, Residential Driveway, Commercial Printer, Auto Plant Paint Shop, Truck-Mounted Rack Fabricator, Farm Equipment Manufacturer and Production Painting Shop.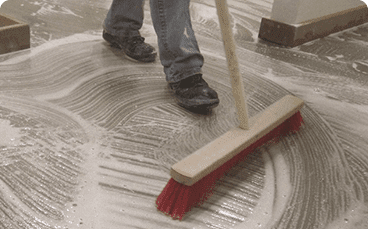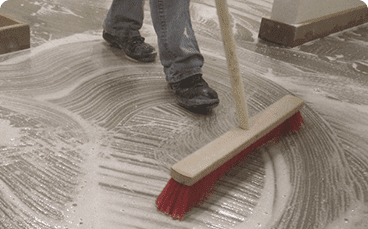 Furthermore, DX-ETCH is designed to be used as an industrial strength DIY product to be used on preparing furniture surfaces, counter tops, concrete surfaces, decks, pools, stucco, cinder blocks and more. It will also remove slick films on galvanized sheet metal in which paints and coatings will not adhere to unless removed.
DX-Etch Features & Benefits
Cleans & Etches in One Step
Enhances Coating and Paint Adhesion to Surface 
Mild Odor, Safe to Apply
DIY – Works in Minutes
Industrial Strength 
No Acidic Vapors 
Neutralizes Alkali Salts
Works to Prep Sheet Metal Film
Can be Diluted with Water    
DX-ETCH Removes:                   
Rust, Oil, Dirt, Soot
Smut, Fines and Rust Inhibitors 
Form Release Compounds 
Heat Scale Oils   
Efflorescence & Laitance 
And More
Recommended Uses:
Cleaning and Profiling Concrete
Preps Galvanized for Coating 
Preps Galvanized for Coating 
De-rusting Steel 
Cleaning Masonry and Brick
Phosphating Steel
Food Plant Cleaning 
DX-ETCH Directions for Use
DX-ETCH can be applied with an acid-resistant, hand pump sprayer, a plastic sprinkling can, or with a plastic pail and acid-resistant brush.
CONCRETE, MASONRY, BRICK
Select proper dilution – see DX-ETCH Product Data
Add concentrate to water and mix. If available, hot water will accelerate cleaning and etching.
Sweep loose debris and dampen the surface with water.   
Apply solution and scrub with a stiff brush or broom until bubbling stops. NOTE: If no bubbling occurs, surface is coated with curing compounds or contaminants preventing etching. Remove contamination and  reapply DX-ETCH.   
Triple rinse with water to neutralize.
STEEL, GALVANIZED AND ZINC                                                                                                                                                                                                                                                                                                 
Brush or spray solution onto surface or immerse parts in DX-ETCH solution.
 Refer to Dilution Guide for recommended concentrations.
Sweep loose debris and dampen the surface with water.   
Allow 1 – 3 minutes contact time, and if possible, rinse with hot water or wipe and force dry.  
For smooth, shiny galvanized, apply solution, scrub with a synthetic abrasive pad, rinse with hot water and force dry.
Recommended All Purpose Coating – PANSEAL 2000PG
For Further information or application questions call Dynesic Technologies customer service – 972-692-0962.