SILVERSHIELD Indoor, Outdoor Epoxy Paint –
SILVERSHIELD Indoor, Outdoor Epoxy Paint has the best of both worlds when it comes to protecting surfaces against rust and corrosion and UV environments. It's silver metallic finish is enhanced with silver flake material that will insure an aesthetic looking finish, while protecting the surface from future corrosion. SILVERSHIELD indoor, Outdoor Epoxy Pint is designed to protect surfaces that continue to deteriorate over time.
All types of paint, especially when it comes to outdoor, harsh environments will not be an ideal option to protect surfaces. Furthermore, paints will not last under water and will not be able to resist chemicals. On the other hand, the chemical structure of epoxy is more suitable for harsh environments, but they notoriously have a tendency to yellow in sunlight. The UV yellowing effects that appear in epoxy coatings will also chalk and become an undesired appearance over time.
SILVERSHIELD Epoxy Paint is as easy to apply as paint, while having the excellent adhesive strength of epoxies and the ability to resist the yellowing effect. The silver flake engrained in SILVERSHIELD will maintain a long lasting metallic finish in direct sunlight and it's composition will protect against all rust and corrosion. SILVERSHIELD Epoxy Paint will attach to metal surfaces with 1600 psi adhesion strength and encapsulate existing rust. SILVERSHIELD epoxy Paint is an industrial strength coating that is safe and easy for DIY projects.
Description
SILVERSHIELD is a high grade, two part epoxy with anti corrosion resistance fillers designed for long term protection against rust and corrosion. SILVERSHIELD contains silver flake which assures a metallic silver finish even in direct sunlight.
SILVERSHIELD can be applied over manually prepared surfaces to provide a primer or a top coat for corroded areas where blasting is not an option. SILVERSHIELD is easy to apply by brush, roller or sprayer to achieve a 4 to 10 mils. dry film thickness. SILVERSHIELD covers 266 square feet at 6 mils. For large surface areas SILVERSHIELD can be sprayed with a 30:1 airless or higher. You can consider SILVERSHIED an outdoor epoxy paint which is much stronger than paints, but able to withstand UV rays without yellowing.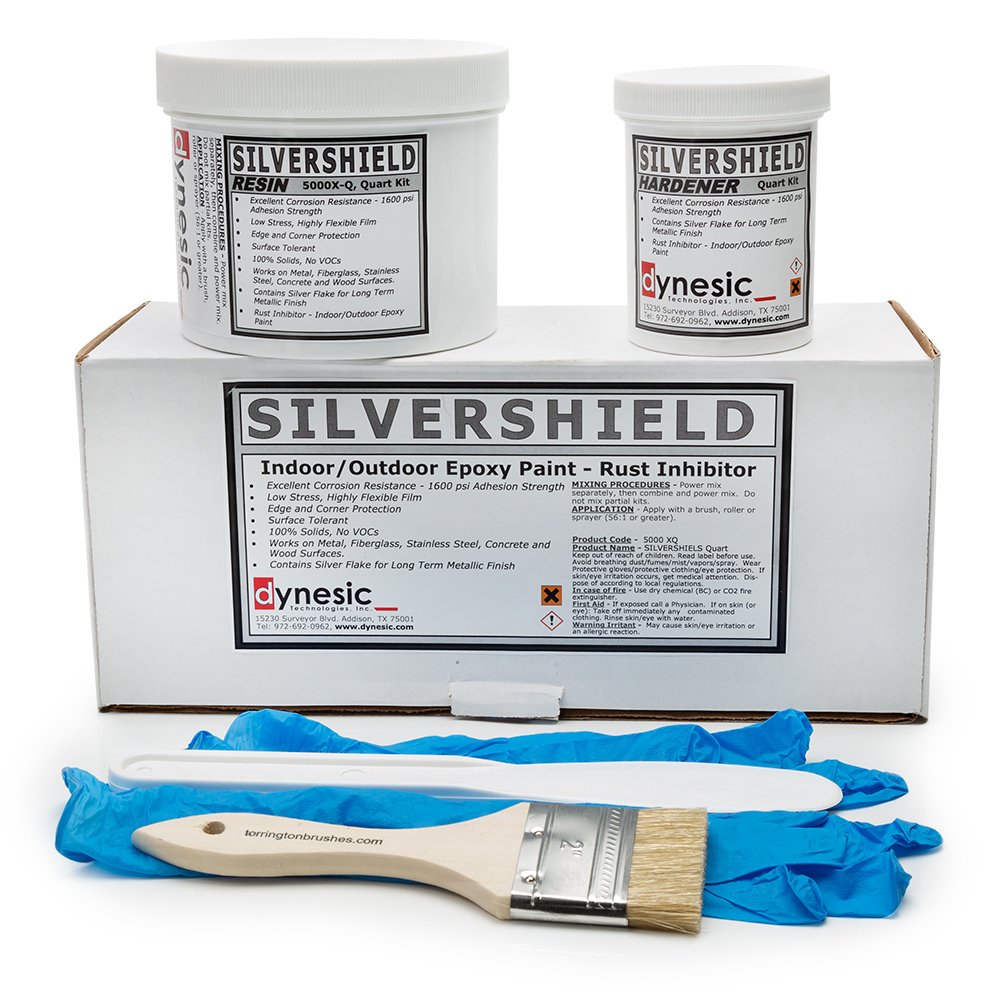 Where There is Rust, SILVERSHIELD Epoxy Paint is Here
Product Features & Benefits
Excellent Corrosion Resistance – 1600 psi Adhesion
Low Stress, Highly Flexible Film
Edge and Corner Protection
Surface Tolerant, Works on Rusted Surfaces
100% Solids, No VOCs
Works on Metal, Fiberglass, Stainless Steel, Concrete and Wood Surfaces.
Contains Silver Flake for Long Term Metallic Finish
Rust Inhibitor – Indoor/Outdoor Epoxy Paint
SILVERSHIELD Recommended Uses
Indoor/Outdoor Rusting and Corroding Surfaces
Pipe Exterior & Pipe Racks
Support Columns
Tank Tops and Tank Surfaces
Farm and Ranch Surfaces
Surfaces Subject to High Humidity
Mixing
Power mix part A resin separately, then add part B hardener and power mix SILVERSHIELD Epoxy Paint. Pay attention to the sides and bottom of the bucket and mix to obtain a uniform color.
Application
Once mixed be ready to apply. Do not keep the blended coating in the original container unless immediate use is planned. Otherwise, exothermic heat created during the curing process will considerably shorten the pot life. Pour the coating into a rolling tray or pour directly onto the surface. Try to keep the depth of the coating in the tray below 3/8".
Brush: Use a medium bristle brush.
Roller: Use a short-nap synthetic roller cover with phenolic core.
Spray Application: Refer to the Product Data PDF.
Cleanup
Use MEK or Acetone. In case of spillage, absorb and dispose of in accordance with local, applicable regulations.
For further information or application questions, contact Dynesic customer service – 972-692-0962.