What is the Best Solution for Concrete Resurfacing?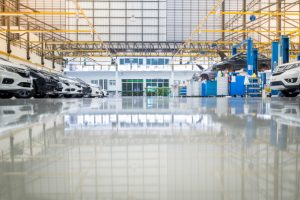 The USA Concrete Repair Industry has grown to 2.6 billion in 2020 and will continue to grow at a clip of nearly 5 percent through 2027.  Obviously, there is a need for concrete resurfacing and a growing need for solutions to projects worldwide.  The best solutions to repair failing concrete involve strengthening the failing surface with a penetrating sealant and adding a top coat, high strength coating that can withstand heavy traffic, all weather conditions and chemicals.  Depending on the scope of the project, there are some variables regarding the best solutions for concrete resurfacing.
Step 1: Concrete Surface Preparation
Concrete must be cured a minimum of 7 days at 75°F (24°C) and 50% relative humidity or equivalent. Prepare surfaces in accordance with ASTM D4258 Surface Cleaning of Concrete and ASTM D4259 Abrading Concrete. Voids in concrete may require surfacing. Mortar joints should be cured a minimum of 15 days.
Clean oils, greases, dirt and soot with DX-ETCH Concrete Cleanser and wash the surface with water.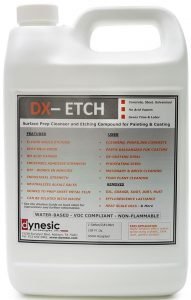 DX-Etch Features & Benefits
Cleans & Etches in One Step
Enhances Coating and Paint Adhesion to Surface 
Mild Odor, Safe to Apply
DIY – Works in Minutes
Industrial Strength 
No Acidic Vapors 
Neutralizes Alkali Salts
Works to Prep Sheet Metal Film
Can be Diluted with Water    
DX-ETCH Removes:                   
Rust, Oil, Dirt, Soot
Smut, Fines and Rust Inhibitors 
Form Release Compounds 
Heat Scale Oils   
Efflorescence & Laitance
Step 2: DX1100 Concrete Resurfacing Primer
DX-1100 Concrete Resurfacing Primer is a deep penetrating epoxy that sinks within the pores of the concrete, strengthening the structure and allowing an excellent bond for the top coating to adhere to.
DX-1100 Features
Low viscosity, deep penetrating sealant
Eliminates outgassing caused by traditional primers
Increases adhesion to concrete due to deep penetration 800 psi or greater based on ASTM D4541
Easy brush/roller/spray application
Adheres to damp concrete
100% solids and entirely free of solvents and VOCs
Recommended Uses
Damaged concrete, cement and stone surfaces
Step 3: Apply PANSEAL Top Coat
PANSEAL Abrasion Proof Coating is an ideal top coat for concrete surfaces because it can withstand heavy traffic, all weather conditions and chemicals.  When applying PANSEAL make sure to stay within the re-coat window of DX-1100 – see this link to DX-1100 Product Data for re-coat information.
Link to PANSEAL Product Data
PANSEAL Features
Seals leaks immediately
Minimal system downtime
Easy brush/roller/sprayer, self-level application
100% solids and entirely free of solvents – NO VOCs.
Works on metal, fiberglass, stainless steel, concrete and wood surfaces
Bonds chemically and mechanically to the substrate
Excellent adhesion strength – 2,750 psi (pull-off adhesion test ASTM D 4541)
Mixing
Power mix part A resin separately, then add part B hardener and power mix.   Pay attention to the sides and bottom of the bucket and mix to obtain a uniform color.
Application
Once mixed be ready to apply. Do not keep the blended coating in the original container unless immediate use is planned.  Otherwise, exothermic heat created during the curing process will considerably shorten the pot life.  Pour the coating into a rolling tray or pour directly onto the surface.  Try to keep the depth of the coating in the tray below 3/8".
Brush:  Use a medium bristle brush.
Roller:  Use a short-nap synthetic roller cover with phenolic core.
Contact Dynesic Technologies Customer Support for further questions or advice regarding concrete resurfacing – 972-692-0962