Dynesic Commercial Products
Dynesic Commercial products are designed for repairs and preventative maintenance.  The ideal products for commercial applications result in minimal down times and therefor need to be able to be applied quickly and be able to return structures to service in a short amount of time.  Other attributes for commercial success with Dynesic products include the attributes of obtaining a permanent outcome, very minimal odor, NO VOCs and the highest adhesion strength in the industry.
Dynesic Products for Commercial Applications
PANSEAL Abrasion Proof Coating & Sealant – Self levelling, minimal odor, NO VOC epoxy coating that immediately seals leaks and protects surfaces against future corrosion
PANSEAL Features 
Seals leaks immediately
Minimal system downtime
Easy brush/roller/sprayer, self-level application
100% solids and entirely free of solvents – NO VOCs.
Works on metal, fiberglass, stainless steel, concrete and wood surfaces
Bonds chemically and mechanically to the substrate
Excellent adhesion strength – 2,750 psi (pull-off adhesion test ASTM D 4541)
ELASTASEAL Flexible Coating – 2 Gallon Kit that offers flexibility for projects requiring elongation properties.
ELASTASEAL Features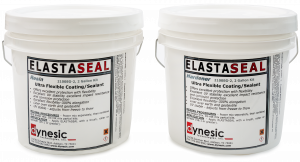 Offers excellent protection with flexibility
Excellent UV stability excellent impact resistance and corrosion protection
Excellent flexibility – 300% elongation
Liner over earth and geotextile
UV stable – adjusts from freeze to thaw
Works on all metal, fiberglass, stainless steel, concrete and wood surfaces
100% solids, free of solvents – NO VOCs
PANSEAL Paste Grade – Trowellable Coating & Sealant used for filling voids, vertical repairs and absences
PANSEAL Paste Grade Features 
Immediately seals leaks, cracks on majorly damaged surfaces
Thick viscosity – Ideal for vertical repairs and ceiling work
Easy to apply with a trowel
Bonds chemically and mechanically to substrate
Works on metal, fiberglass, stainless steel, concrete, and wood surfaces
100% solids and entirely free of solvents and volatile organic compounds
SILVERSHIELD Epoxy Paint – UV resistant epoxy paint ideal for outdoor applications
SILVERSHIELD Epoxy Paint Features
Excellent Corrosion Resistance – 1600 psi Adhesion
Low Stress, Highly Flexible Film
Edge and Corner Protection
Surface Tolerant, Works on Rusted Surfaces
100% Solids, No VOCs
Works on Metal, Fiberglass, Stainless Steel, Concrete and Wood Surfaces.
Contains Silver Flake for Long Term Metallic Finish
Rust Inhibitor – Indoor/Outdoor Epoxy Paint