Dynesic Residential Products
Dynesic designs Residential products designed for safe, quick and easy applications for DIY applications.  Not only is the Dynesic Residential product line extensive for many in home projects, but they are concentrated in user friendly packaging for home owners and residential contractors.   These products are ideal for repair and preventative maintenance because they have great adhesion strength and will permanently seal leaks and protect against future corrosion.
Finally, Dynesic Residential Products will save customers time and money.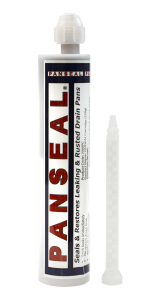 We don't want people to spend unnecessary money replacing HVAC systems and contribute to landfill.  We saved Joe $2000 on a simple quick fix with our product PANSEAL Cartridges and that's what we will do for you as well.  We don't believe in fake endorsements – only authentic endorsements and received this email recently.  Not everyone will take the time to contact us regarding their successful outcomes, but in reality, we do not hear about unsuccessful outcomes at all. 
Scott,
"Just wanted to let you know that you saved me over $2000.My drain pan on my 25-year-old AC evaporator was leaking pretty bad (I have attached some pics).
I was unable to purchase a new drain pan for this unit since it was so old, so I was going to have to buy a new evaporator with a drain pan on it. This was an expensive job to have it installed (quoted at $2100) and my evaporator is working fine with no Freon leakage.
I came across your "PANSEAL" product on YouTube and figured I give it a try. What a great product and so easy to use. Just squirt the self-leveling product into the drain pan and it flows to the leak and seals it.
The product cured completely in a few hours and was rock solid. It's almost as if it's part of the metal pan now. The hole was large, so I added some screening on top of the hole while the product was still wet.
The leak is stopped completely and I am running my AC again.
All for less than $50. 
Thank you very much and I will highly recommend your product to friends and family."
– Joe
THANKS Joe!  We take pride in saving you $$$!!!  We know that you are thankful to keep your $2,000, especially during these times!!!
PANSEAL Cartridges – Designed to seal leaks in drain pans
Seals leaks immediately
Minimal system down time
Easy brush/roller/spray application – Sets up underwater
100% solids and entirely free of solvents, NO  VOCs.
Works on metal, fiberglass, stainless steel, concrete and wood surfaces
Excellent adhesion strength – 2,750 psi (pull-off adhesion test ASTM D 4541)
PIPESEAL Pipe Leak Repair – Designed to permanently seal leaks in copper and all metal pipes within 5 minutes
Works on all metal pipes including copper, steel, lead and cast iron
Heat activated – Hardens fully in minutes
Withstands pressures greater than 1200 psi
No wrapping or plugging required
Ideal for refrigerant lines
Extreme chemical resistant properties
100% solids – No VOCs
Permanently seals holes up to 1/2 inch diameter
DURAPATCH All Purpose Leak Sealant & Adhesive – Extra Heavy Duty paste to seal leaks on surfaces and re-attach broken parts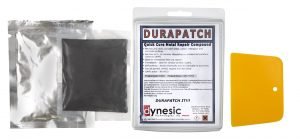 All Purpose Quick Cure Epoxy Paste
Hardens in 5– 15 minutes depending on ambient temperature  (down to 38°F)
Ideal for immediate field use repairs
Trowelable – ideal for vertical surface repairs
Self-priming – bonds chemically and mechanically to the substrate
Can be sanded, drilled, tapped and machined
100% solids – No VOCs
HD ASPHALT Pot Hole Repair – Fix those potholes within minutes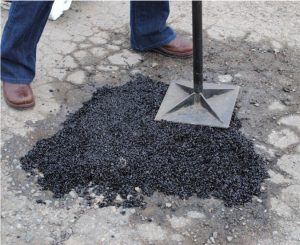 • Works in all weather conditions: wet, cold or hot
• No mixing, mechanical compaction or tacking
• Cost effective with no messy clean-up or time constraints
• Adheres to asphalt, concrete or steel
• Perfect for bridge, drain, utility cuts and cutter work
• Patch will not release, eliminates milling before repaving
• Proven non-hazardous
• For use in all seasons
HD CONCRETE Surface Repair – Patches and repairs cracks and potholes in concrete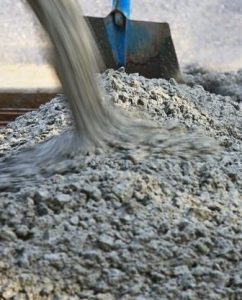 • Fills voids and cracks immediately
• No system down time
• Easy impact application
• Blends with either concrete or asphalt
• Stable and flexible repair
• Pre-mixed package, quick DIY application
• No messy clean-up
• No cure time – immediate traffic access
• Can be applied during any season – works in all weather conditions