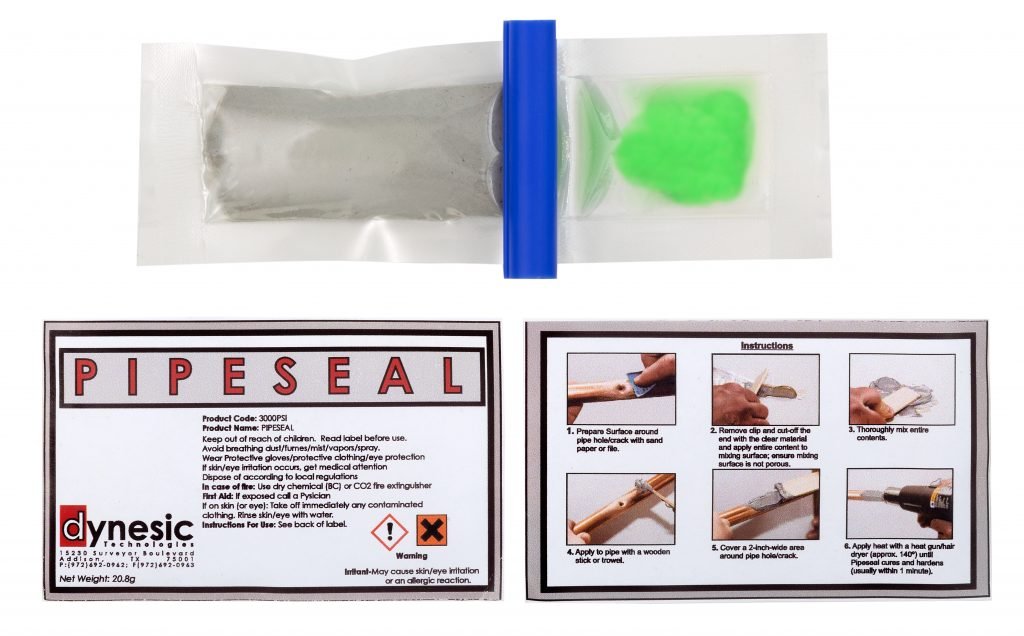 5 Minute Pipe Leak Repair –
PIPESEAL 5 Minute Pipe Leak Repair is a unique, multi-component, novolac epoxy designed to quickly and permanently patch, seal and repair cracks, holes and leaks in all types of pipe including copper, steel, lead, cast iron and aluminum.  PIPESEAL 5 Minute Pipe Leak Repair is comprised of 100% solids, contains no VOC's and is safe to apply.  PIPESEAL repairs pipes within 5 minutes and is ideal for residential and commercial repairs.  It's excellent 1,900 adhesive strength makes it a perfect option for refrigerant lines. PIPESEAL Copper Pipe Repair will not only seal 1/2" diameter leaks in copper pipes, it will also bond copper to copper. 
Ken Cogliano, an unaffiliated product repair advisor tested PIPESEAL 5 Minute Pipe Leak Repair on a copper pipe and pressurized it to 500 psi and gave the product 2 thumbs up. In ASTM testing, PIPESEAL Pipe Leak Repair was able to withstand 3,000 psi without fail.
Link to Ken Cagliano's PIPESEAL Video
Ken Cogliano, Chief Engineer is the host of Ken Training, a popular Do-It-Yourself training video series. His unaffiliated evaluations on Dynesic products PANSEAL and PIPESEAL produced glowing results. Click for further information and to see Ken's product review videos.
Ken Cogliano evaluates many repair products and will only give 5 star ratings to products that work effectively, as advertised. His commitment to customer satisfaction and positive outcomes is his concern. THANX Ken – Let's agree to endorse products that work great and help consumers with great results.
PIPESEAL Pipe Leak Repair Benefits
· Works on all metal pipes including copper, steel, lead and cast iron
· Heat activated – Hardens fully in minutes
· Withstands pressures greater than 1200 psi
· No wrapping or plugging required
· Ideal for refrigerant lines
· Extreme chemical resistant properties
· 100% solids – No VOCs
· Permanently seals holes up to 1/2 inch diameter
PIPESEAL 5 Minute Pipe Leak Repair Directions
PIPESEAL's resin and hardener must be thoroughly mixed to insure it's effectiveness. PIPESEAL's hardener is liquid in viscosity, so it is important to mix on a non-porous surface, making sure that the hardener is blended evenly within the resin.  PIPESEAL cures within a few minutes once heated with a non-flammable heat gun or hair dryer.
Prepare surface around damaged area where PIPESEAL will be installed. Use heavy grit sandpaper to score and etch the surface. Make sure to remove oils and greases from surface.
2. Remove clip and cut-off end with the clear material and apply entire contents to mixing surface; ensure that the mixing surface is not porous.
3. Thoroughly mix the resin and hardener to ensure the hardener is evenly mixed within the resin. Because the hardener portion is less than the resin contents, it's important to mix well.
4. Apply PIPESEAL to the pipe surface with a mixing stick or trowel.
5. Cover area around pipe leak, It's not a problem if some of the material pushes into the leaking area, as it can help reinforce the damaged surface.
6. Apply heat with a heat gun until PIPESEAL cures and hardens within minutes. You will see the shiny sheen turn to a mat finish as the product cures. Once you see that it becomes hard, the system is ready to turn on, or ready for pressured surface.
DURAPATCH Pipe Repair – What about PVC and Other Types of Pipes?
DURAPATCH is ideal for all pipes as well, including non-heat conducting pipes such as PVC. DURAPATCH will harden within 5-15 minutes without the need for heat gun.
Product Features & Benefits
All Purpose Quick Cure Epoxy Paste
Hardens in 5– 15 minutes depending on ambient temperature  (down to 38°F)
Ideal for immediate field use repairs
Trowelable – ideal for vertical surface repairs
Self-priming – bonds chemically and mechanically to the substrate
Can be sanded, drilled, tapped and machined
100% solids – No VOCs
Recommended Uses
Metal cooling tower pans
Emergency tank and pipe repairs
Electrical bushings Setting keyways and taper fits
Repair of metal, fiberglass, composite, PVC and similar plastic materials
Pool pump leaks, adhesive for tiles and bricks
Link to DURAPATCH Product Data
For more questions on 5 minute pipe repair contact Dynesic Technologies customer support at 972-692-0962.